Rijkswaterstaat will renovate the Heinenoord tunnel in 2023 and 2024. TheHeinenoord tunnel dates from 1969 and is now due for major maintenance.  On the N59 , the province of Zuid-Holland will place a guard rail between the driving lanes. The road becomes safer with this driving lane divider.  By combining the activities at the Heinenoord tunnel, there will be one period of disruption for users of the N59. In 2023, Rijkswaterstaat will also be renovating the moving part, the valve, of the Haringvliet bridge. The bridge dates from 1964, and the moving equipment and the systems for control and monitoring are in need of replacement.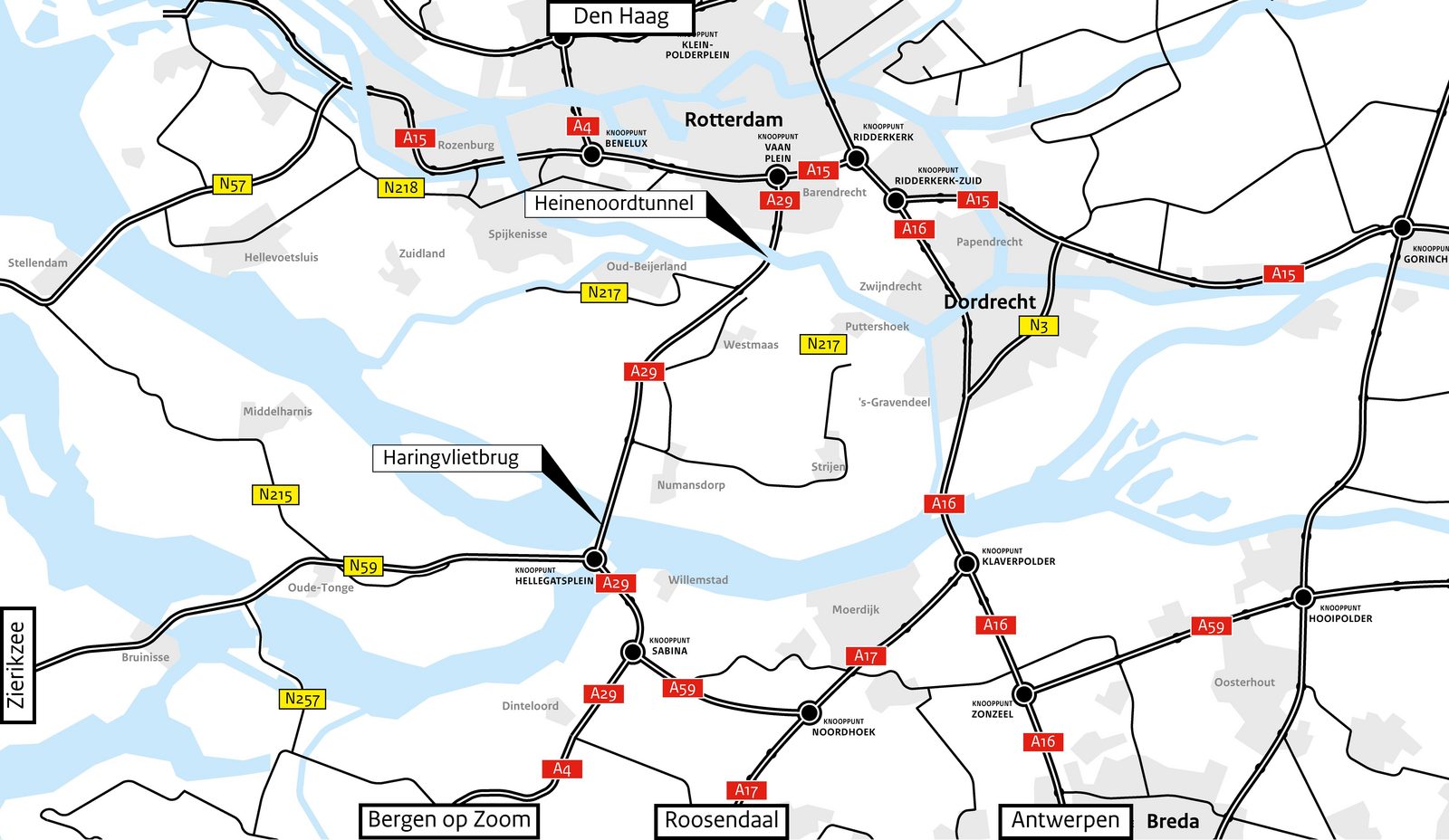 Closures and extra travel time
In order to be able to carry out the renovation work safely, the bridge has not been operated for ships higher than 13 meters since January 2023, and Rijkswaterstaat closes the bridge and the tunnel multiple times for road traffic. Road users must take into account extra travel time on top of the normal travel time, which can exceed an hour during rush hours.
Haringvliet bridge closure
From 10:00 p.m. Friday, June 9th until 11:00 p.m. Friday, July 28th, with a possible extension up to and including August 4th, 2023. In the fall, the tunnel will be closed for a few nights to test everything.
Heinenoord tunnel closures
From 10:00 p.m. Friday, April 28th until 5:00 a.m. Monday, May 8th, and from Monday, August 7th through Friday, September 1st, 2023 5:00 a.m. in both driving directions. Beforehand, the tunnel will be closed in the direction of Bergen op Zoom from 1:00 a.m. Saturday, August 5th until 1:00 a.m. Monday, August 7th.  In 2023, the tunnel will also be closed for many weekends and nights, usually in 1 travel direction.
From Monday, August 7th through Monday, August 28th, the N59 between the Hellegatsplein junction and the Den Bommel connection (Schaapsweg) will also be closed.
Closures Haringvliet recreational boating
From January 1st until the fall of 2023, there will be no passage for ships higher than 13 meters on the Haringvliet bridge. The Haringvliet bridge is not being operated. Ships higher than 13 meters must circumnavigate. Ships lower than 13 meters can pass under the fixed part of the bridge. 
Shipping traffic can circumnavigate by way of the North Sea or the Spui, the Oude Maas, and the Dordtsche Kil, and must take much longer boating times into account.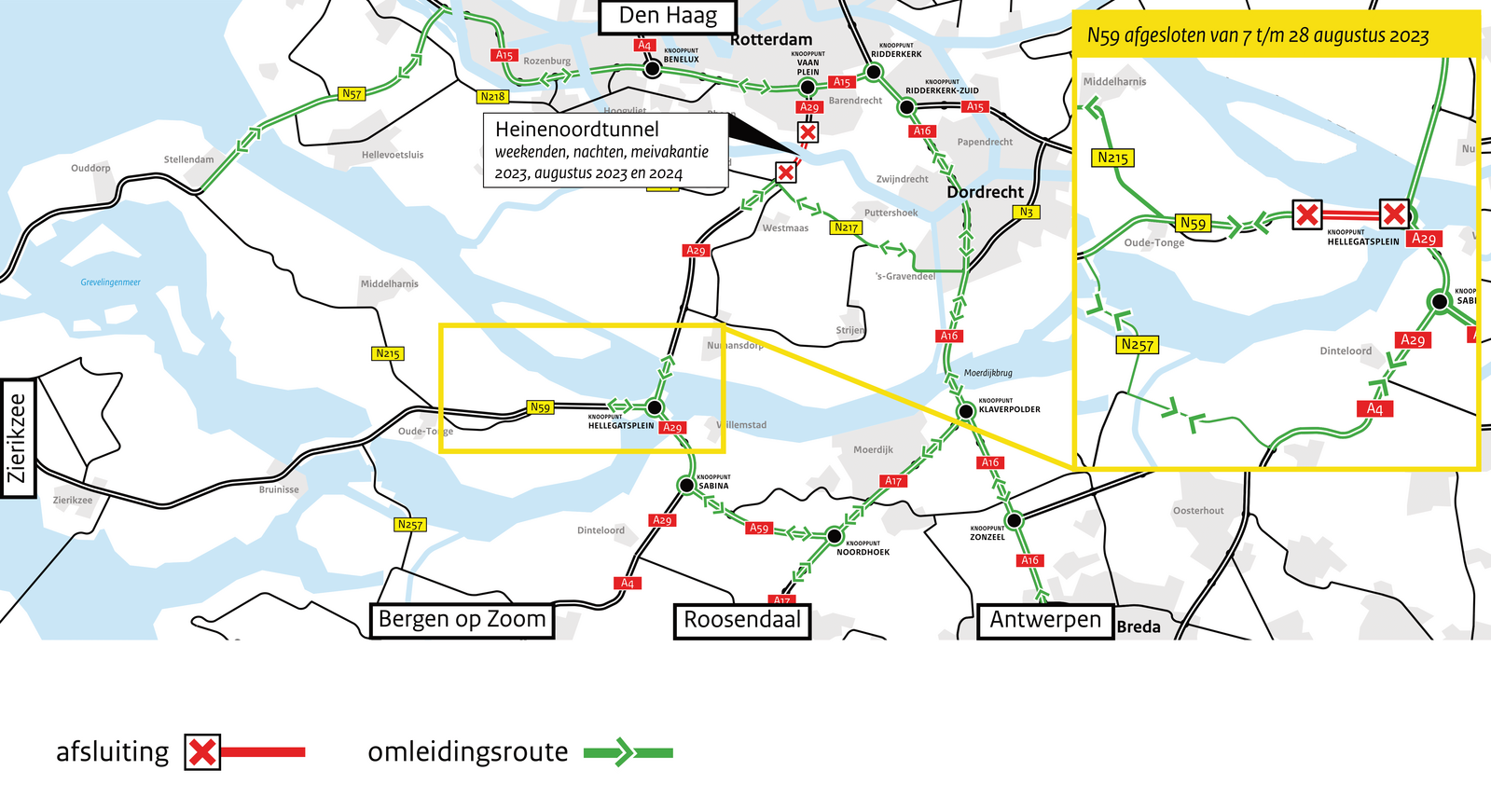 Tips to limit nuisance and avoid traffic jams
Rijkswaterstaat is taking measures to be able to limit the nuisance. Think of measures such as diversions, adjustments to the road network, adjusting traffic lights differently to promote traffic flow, and actions to encourage bicycling and the use of public transportation. 
You can also do something yourself to limit the nuisance on your route and avoid traffic jams:

• go on the road well prepared
• know when the closures are and what the diversions are
• travel outside rush hours to your (vacation) destination
• check the traffic situation before you leave through existing apps, Rijkswaterstaat traffic information, or vanAnaarBeter
And when you are at your destination, think about:

• renting a bicycle/e-bike for short distances
• traveling by public transportation
• traveling at different hours (outside rush hours)
• avoiding the detour routes
Flyer with overview of all construction activities